For children under 18, please click here
Guaranteed Results With Our Waxfree Guarantee™!
We're the only national independent ear wax removal specialists that offer our unique Waxfree Guarantee™. When you follow our Waxbusting Protocol™, we guarantee to get your ear wax out on the first visit, or your next visit is free. You can find out more about our Waxfree Guarantee™ here: The Hearing First Waxfree Guarantee™ (opens in a popup).
Video: What Happens In Your Ear Wax Removal Appointment
How To Book Microsuction Ear Wax Removal Online
Enter your location in the box below and select which ear you want treated, then Click on "Find Appointments" in the box below. By default, the website will search for the next available appointments in multiple locations within 15 miles. If you want to find the closest clinic, click on the "Nearest" option first.
After the list of clinics, appointments and prices appears, you can limit the distance and date of available appointments by toggling the miles and number of days at the top of the table.
The prices shown already have the £10 online booking discount applied.
If you want to learn more about the clinic, click on Clinic Info beneath location at the left-hand side of the table.
When you've chosen the appointment and clinic location you want, click on the small box with the time and price, then click on Book Now to go to checkout. After you have made your payment, you will receive an email and text message confirming your booking.
A few things to remember before you book!
We strongly recommend that you soften your ear wax with Earol spray, 4 times a day for at least 5 days prior to your appointment OR follow our Waxbusting Protocol™ and take advantage of The Hearing First Waxfree Guarantee™
Some of our audiologists are vulnerable to Covid and may ask you to wear a mask. We kindly ask you to cooperate if asked to wear one. If you are clinically vulnerable, please call our booking team on 0800 1 337 987 and they will book a specific appointment for you.
Because we operate via a booking system, we employ a 36-hour policy for all appointments. That means that if you want to cancel or reschedule your booking, it must be done 36 hours before your schedule. By extension, please note that missed appointments are non-refundable.
If you book for both ears and only one has ear wax, we cannot refund the other ear as we cannot give that time to another patient. The same principle applies if we find no earwax during the appointment.
Occasionally, there are cases where you'll need to get a return visit if the wax is too hard to remove in one session. The second appointment can be free if you avail our Hearing First Waxfree Guarantee™; otherwise, you can get our standard 40% discount for the second appointment, and in the unlikely event, 100% off for the third.
For busy people who don't have time to make their own online booking and fill in the consent form, we offer our "done for you" booking service. Just call us on 0800-1-337-987 and our booking staff will do all the work for you. Remember to have your credit or debit card to hand.
Looking for something else? Check out our other services below!
Prices from £49…
We regularly run local promotions, meaning our prices can start from as low as £49 if you book at an off-peak time two weeks in advance.
…or use our "Hear Now, Pay Later" to pay from £9 a week
We appreciate that in these times, it can be hard to budget for unexpected health problems like a blocked ear. That's why we have teamed up with Laybuy and Klarna to help you spread the cost from as little as £9 a week.
What you see is what we've got…
We make all of our appointment times available through our online booking system. If you don't see the time that you want, unfortunately it isn't available. It is possible that someone may cancel their appointment at some point, in which case the appointment time will be made available through our booking system. Similarly, if the location that you want isn't showing, then that location may not yet be open. In that case, please increase the radius of your search to find an alternative location.
What you see is what you pay…
The price shown includes any online booking discount, as well as any off-peak or advance booking discounts. You will be able to add any discount voucher codes you have before you enter your payment details. Unfortunately, we are unable to apply voucher discounts after you have paid.
Don't forget to fill in the secure consent form!
After you complete the booking process, you will receive an email with a link to a secure form on our web site. It is very important that you complete the form before your appointment as we are unable to perform an ear wax removal procedure on anyone who has not given consent. Due to COVID-19, we are only accepting consent forms through our website. For help with completing your consent form, please see How To Complete Your Consent.

We are very security minded, and your data is tightly protected by multiple layers of security, including secure connections throughout, multiple firewalls, Google reCaptcha, attack detection and blocking, and data encryption.
Here are some reviews of our ear wax removal service
Want to read the small print?
If you'd like to read all our terms and conditions of booking, please click here: Terms And Conditions of Use
Covid-Secure Earwax Removal In Your Local Area
Below you'll find some pictures of our staff carrying out ear wax removal.
Things have changed a bit since Covid-19, so we want to put your mind at rest and explain what we are doing to keep you safe . Please read on, and when you are ready, click on the link to start the booking process.
This is what ear wax removal looked like pre-Covid-19:
Here's what ear wax removal looks like post-Covid-19: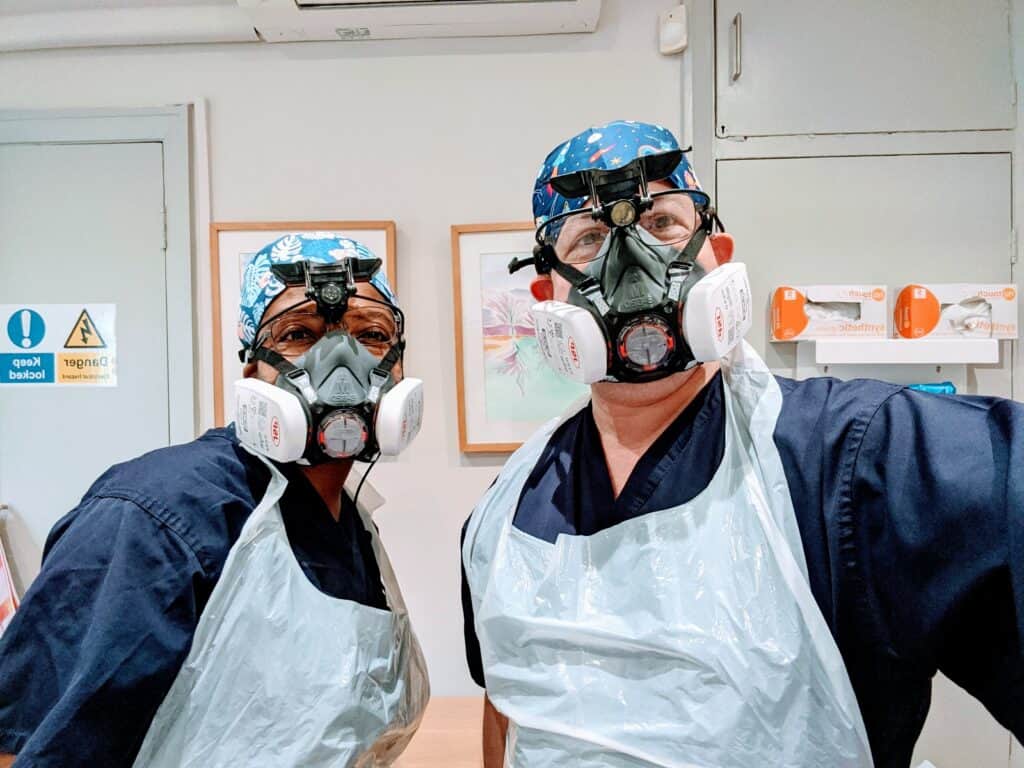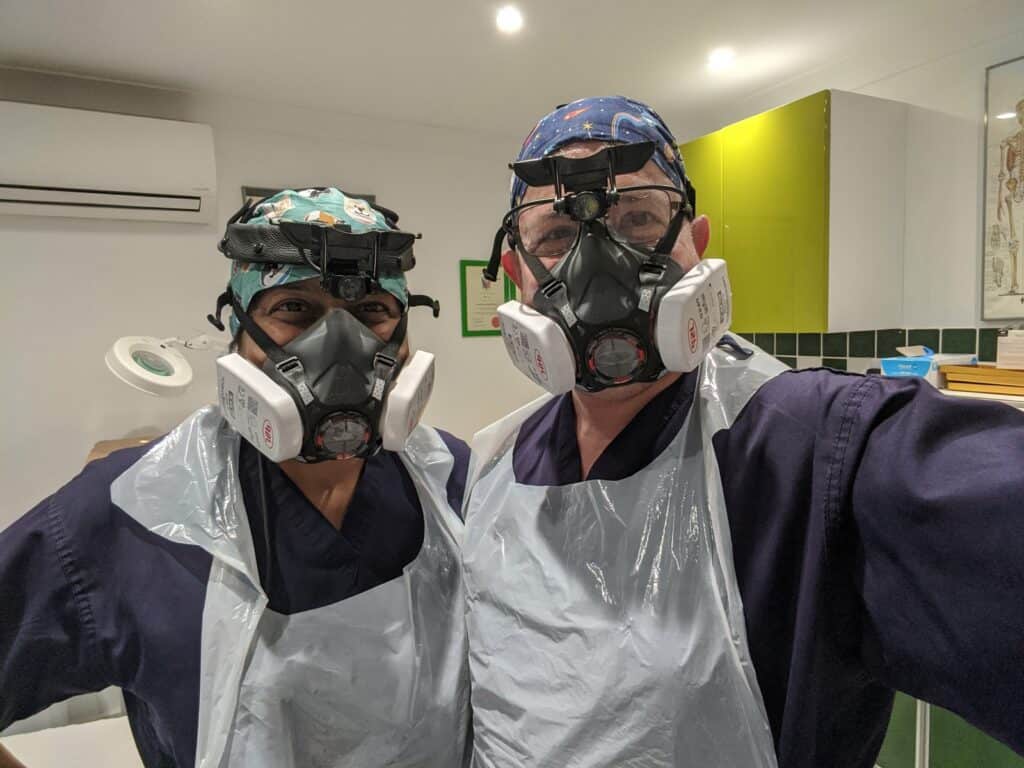 Ready to book? Enter your location at the top of the page and click "Find Appointments"
We look forward to helping you. We might look scary in our PPE, but we're very friendly!
WE HAVE ENDEAVOURED TO KEEP OUR PRICES LOW, WHILST IMPLEMENTING GOLD STANDARD COVID-SECURE MEASURES. PRICES DISPLAYED IN OUR BOOKING SYSTEM ARE AUTOMATICALLY CALCULATED AND INCLUDE ALL APPLICABLE DISCOUNTS.
One or Both
Online Price (including £10 self-service discount)
One ear (or wax too impacted / no wax)**
From £44, or Hear Now, Pay Later* from around £8/week
Both ears (or wax too impacted / no wax)**
From £59, or Hear Now, Pay Later* from around £10.50/week
Upgrade from one to both ears in clinic
£25 (Subject to wax being pre-softened and sufficient time available - at the discretion of our Audiologist)
*Hear Now, Pay Later
It can sometimes be difficult to budget for unexpected health costs. That's why we have teamed up with Laybuy to give the option of spreading our booking fee over 6 weeks.
**Consultation only (no wax present)
If no wax is present, we will provide ear care advice and/or a complementary hearing test (possibly at a later date), whichever our clinician deems appropriate
**Consultation only (wax too impacted)
If wax is too impacted, our clinician will remove as much as they consider is safe, and provide advice on an appropriate wax softening regime

36 hours notice required for alterations and cancellations or NO refund will be given.

Non-attendance is charged at the full price.

Thank you.
How Prices Are Calculated
| Price Adjustment | Adjustment Amount (+/-) |
| --- | --- |
| Online Self-Service Discount | - £10 |
| Advance Booking (8 - 14 days) | - £5 |
| Advance Booking (15 days or more) | - £10 |
| Off Peak (Normally before 12:00pm) | - £5 |
| Local Promotional Discount | Discount varies by location - See Booking System |
| Peak (5:00pm - 6:00pm) | + £10 |
| Peak (6:00pm onwards) | + £20 |
| Saturday | + £10 |
Ear Wax Removal Online Booking Form
*Note that people who use our self-service booking system will benefit from an additional £10 discount (automatically applied to the price) compared to our phone booking prices.
If you need instructions on how to use the online booking form, please click here
Have you softened your ear wax? For your comfort and to increase the chances of success we strongly recommend that you soften your ear wax with Earol spray, 4 times a day for at least 5 days prior to your appointment OR follow our Waxbusting Protocol™ and take advantage of The Hearing First Waxfree Guarantee™
CANCELLATION POLICY
Booking System
Just enter your location and click Find Appointments at the top of the page.
[maxbutton id="3"]
Booking Instructions
Click on Find Appointments. It will automatically show you appointments and prices for both ears, as the majority of people need two ears unblocked. However, if you only need your left or right ear unblocked, go to the top of the screen and click Left or Right where it says "Left / Right / Both", then click "Find Appointments".
Choose a date, location and time that suits you. The price is shown below the time.
If you want to look for a different location, go to the top of the page and enter a new location where it says "Town / Postcode", then click "Find Appointments".
Click the time and a summary of your booking will pop up. Click "Book Now" to go through to the checkout and pay.
Enter your payment details and any discount codes that you may have - if you are haven't used the new booking system before, you can use the code "5offnew" to get £5 off the price shown.
Complete the booking and you will receive a confirmation and reminder by email. It is important that you read these emails as they contain a link to your consent form, which in accordance with the new Covid-19 regulations you need to complete before your appointment. If you don't complete the form, we regret that we won't be able to perform the procedure.
We look forward to seeing you and helping you with your ear wax problem!
If all else fails, call us on
0800 1 337 987
and use our "done for you" booking service!
EARLY / LATE / SATURDAY APPOINTMENTS
NOTE: We have a limited number of evening and early morning micro suction appointments at our Baker Street, Welwyn Garden City, and East Finchley clinics. We also have a number of Saturday appointments at our Baker Street and Oxford clinics. All of our available appointments are shown on the online booking page. 
Online Booking Confirmation
Your online booking is not confirmed until you complete the payment process. We are sorry that we have had to introduce this policy due to a small number of people who have booked and not attended, preventing genuine people from receiving treatment.
Difficulty Booking Online
Our online booking system has been extensively tested. If you have difficulty with online booking it may be due to your browser. You can try clearing your cookies and your cache. If you are using Internet Explorer or Safari, you could try using
Google Chrome browser
instead.
Telephone Bookings - Our "Done For You" Service
Due to Covid-19 regulations, every patient must complete a triage and consent form before attending an appointment. If you would like our friendly staff to take care of the booking and forms, you can call our office on
0800 1 337 987
.
However, please bear in mind that due to social distancing we are running a reduced telephone helpline service.
We are very sorry, but we have to strictly adhere to this policy for the protection of everyone's health
.
Cancellation Policy
Please give at least 36 hours notice to cancel or move your appointment, otherwise no refund will be given, as it may prevent another person receiving treatment:
| | |
| --- | --- |
| Hours Notice | Refund Amount |
| 36 or more | 100% |
| Less than 36 | 0% |
JUMP BACK TO THE BOOKING FORM
* Coronavirus Legislation - Business Closures and Exemptions To Wearing Face Coverings
MARCH 2023: IMPORTANT NOTICE
Updated 2nd March 2023. As an Audiology Service, following our governing body advice we continue to take measures, including triaging every single patient, wearing PPE, enforcing the wearing of a Type iiR surgical mask (which we will provide if you don't have one), and sanitising surfaces. Due to these measures, our clinic rooms are likely the safest place you can be. Under the Coronavirus legislation, some people were exempt from wearing face masks when entering a "shop". However, in the same legislation Audiology Services were exempt from the definition of shop, so everybody had to wear a mask without exception. This is because ear wax removal can elicit a cough reflex, which will then produce an aerosol of droplets which can remain suspended in the air for a considerable time.
Since the unlocking, Coronavirus, as well as Influenza and respiratory syncytial virus continue to circulate and can severely affect vulnerable people. It is not possible to predict who will be vulnerable to one of these viruses, as people have varying degrees of response to different vaccines. Even if a patient is not vulnerable, they may have someone vulnerable at home, or they may care for a vulnerable person.
As professionals, we have a duty of care to our most vulnerable patients. Therefore we request that all our clients wear a type iiR mask when in the clinic room, and one will be provided for you if you don't have one.
If you feel that you are exempt from wearing a face mask due to a disability, then we will make a reasonable adjustment for you, which is to offer you the last appointment at the end of the day and this way any aerosol produced during the procedure will settle overnight and will not put any of our vulnerable clients at risk.
JUMP BACK TO THE BOOKING FORM
Ready to book? Enter your location at the top of the page and click "Find Appointments"